Welcome to STAR WARS Merchant
Welcome to the my star ship. The Starwars Merchant is open for business and I think that you will find everything that you need for your long jouney across the galaxy. You'll find all that a Jedi seeks. And all that the dark side seeks as well. The force is strong in you, but I can not sense which side of the force holds you. Cloudy has everything become in this great time of unrest.
Shop now for Star Wars: The Force Awakens toys!
Shop now for Star Wars: The Force Awakens costumes and accessories!
Shop now for great deals on retro Star wars items!
Featured Products
Star Wars R2-D2 Single-Cut Guitar: Apparently, R2-D2 can do just about anything - including play guitar! The galaxy's favorite Astro mech droid adorns this quality full-size Star Wars R2-D2 Single-Cut Guitar from Peavey Electronics. Crafted from basswood with an integral center body section, carved top, and a deep lower cutaway with scoop for extended access to the upper register, it also boasts humbucking pickups, ceramic loaded for warmth, punch, and presence, and harmonically positioned and frequency calibrated.

Star Wars VII Snow Desert Figures Wave 2 Case and
Star Wars VII Jungle and Space Action Figures Wave 2 Case Tour the galaxy with the Star Wars The Force Awakens 3 3/4-Inch Jungle and Space Action Figures Wave 2 Case! Each 3 3/4-inch action figure includes a pair of accessories - or possibly even more - from a galaxy far, far away. Feel disturbances in the Force, and then shoot at them, with this exquisite collection of action figures. Most action figures feature 5 joints each.

Star Wars R2D2 Collector's Watch This Star Wars R2D2 Collector's Watch is a fantastic gift for the true Star Wars fan! Suitable for display or for everyday use, it comes packaged in a deluxe box with a certificate of authenticity. It's battery-operated, and a battery is included. Add it to you collection today!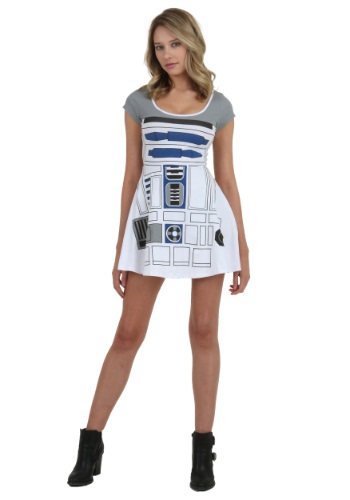 Star Wars R2D2 Skater Dress Show your love for your favorite droid with this R2D2 skater dress.
Women's Star Wars Stormtrooper CostumeStar Wars Stormtrooper Female Adult Costume Be an elite soldier of the Galactic Empire! Costume includes: White jumpsuit with attached molded armor, belt and 2-piece mask. Available Sizes: Small 4-6 Medium 8-10 Large 12-14 Boots are NOT included. This is an officially licensed Disney Star Wars costume.
Star Wars Darth Vader Static Lightsaber Umbrella: Is there a storm brewing on your world? If so, this Darth Vader Umbrella is just what you need to thwart the elements! The handle is based on the famous weapon used by the Dark Lord of the Sith, while the shaft has been beautifully anodized in an iridescent red. The black 100% nylon canopy displays the emblem of the Galactic Empire silkscreened on the sides. This fantastic accessory comes with a sleek nylon carrying sleeve with an adjustable shoulder strap. It measures 39-inches long, while the canopy measures 47-inches across. Be ready for any tempest as you wield the Force and your Darth Vader Lightsaber Umbrella!